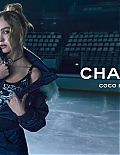 GALLERY LINK
Campaigns & Ads > 2023 | Chanel: Coco Neige
The actress has been a brand ambassador for the house since 2015.

Chanel has revealed its latest ad campaign, starring Lily-Rose Depp, for the 2023 Coco Neige Collection, which was designed by the brand's artistic director Virginie Viard.

The new Coco Neige ads play on the worlds of ice skating and were shot by photographer Mikael Jansson. Throughout the campaign, the French American actress wears highly technical outfits to illustrate the relationship between sport and fashion. The collection drew inspiration from skiers and dancers alike.

One shot in the campaign features Depp wearing a Chanel CC logo, graffiti-patterned, black-and-white ensemble with an airbrush-inspired Chanel T-shirt with a giant heart. Depp's outfit is completed with white ice skates.

"When I heard that we were going to be shooting at an ice-skating rink, I couldn't help but think of Ice Princess, this movie I used to watch all the time when I was a little girl and I'd think, I want to be an ice skater too! I never quite pursued the dream, but I loved that movie," Depp said in a statement.

Other shots include Depp in a black Chanel tank with a black ski parka with white fur trim and another of her in a gold lamé jumpsuit complete with furry brown aprés-ski boots.

"I love how Virginie Viard always reinvents the codes of Chanel, but in different ways," Depp continued. "Like the chain pattern on my sweater or a really cute little skirt that has a gold chain motif reminiscent of the jeweled belts and the costume jewelry. I love the way we get so attached to these patterns and we associate them with Chanel, they're so timeless and iconic."

The color palette for the campaign was dominated by black and white, with hints of fuchsia pink and gold. The Chanel Coco Neige 2023 collection is available beginning Tuesday.

Depp also fronted Chanel's Première Edition Watch campaign for Chanel's re-edition of Jacques Helleu's watch design. The ads debuted on Sept. 1.

The actress has been a Chanel ambassador since 2015 when she was handpicked by Chanel's then artistic director Karl Lagerfeld as a brand ambassador.
Source: WWD